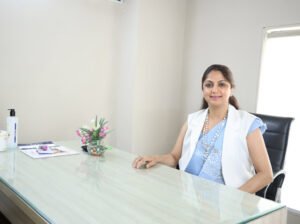 Dr. Vanie Sarda Thapar
Senior consultant Obstetrics & Gynaecology
MBBS – CMC Ludhiana
MD – PGIMER Chandigarh
IVF
ICSI
IMSI
IUI
LAH
Frozen Embryo Transfer
Male factor Infertility
Recurrent IVF failure
Laparoscopic Surgery (Hysterectomy, Fibroids, Ovarian Surgery)
Awards
Presidents Silver Medal for scoring highest marks amongst women candidates in final M.B.B.S exam of Punjab University.
H.B. Singh Silver Medal for standing 2nd in final exam.
Dr. M.E Tucker prize for standing 2nd in Surgery in final M.B.B.S exams.
Mohinder Pal Aggarwal Gold Medal for being one of the three top position holders of final MBBS exam.
Award of honor by united nations youth organisation (Punjab Unit) for medical services as Gynaecologist to the poor women of weaker section of the society.
Additional Training
Clinical Course for surgical pelviscopy and hysteroscopy at department of Obstetrics and Gynaecology, university of Kiel, Germany (May 1998).
Training in infertility management and ART from IRM, Kolkata, March 2000.
FOGSI, Ultrasound training course 2002.
Research fellow for Indian council of medical research on the project "Comparison of intraumbilical oxytocin and intravenous methylergometrin in the management of 3rd stage of labor.
Office Secretary and chairperson infertility committee of Ludhiana. Obstetrics & Gynaecology society.
Practising IVF since 2001 (20+ years)