Urogynecology is a sub-specialty of Gynecology, which deals with clinical problems associated with dysfunction of the pelvic floor and urinary bladder. Pelvic floor disorders affect the urinary bladder, reproductive organs, and bowels. Common pelvic floor disorders include urinary incontinence (urinary leakage), pelvic organ prolapse and fecal incontinence (stool leakage). It also involves the care the care of women who have experienced trauma to the perineum during childbirth. Urogynecological problems are seldom life-threatening, but they do have a major impact on the quality of life of affected individuals. Thus, quality of life improvement is a treatment goal, and there is a major focus on optimising symptoms using conservative measures before embarking on more invasive treatments.
"We are unique in providing care by a specially trained doctor (urogynaecologist), pelvic floor physiotherapy, urodynamics, and all relevant surgical procedures under one roof."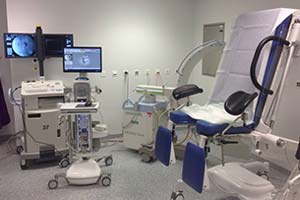 Urogynecologists are medical professionals who have been to medical school and achieved their basic medical degree, followed by postgraduate training in Obstetrics and Gynaecology (OB-GYN). They then undertake further training in Urogynecology to achieve accreditation/board certification in this subspecialty.
Specialised investigations are performed to investigate urinary problems which include urodynamics or a cystoscopy.
Surgical treatments are offered for stress incontinence and/or uterovaginal prolapse if pelvic floor muscle training is unsuccessful.
The clinical conditions that we investigate and treat at Suman Hospital in the Urogynaecology department are:
Recurrent urinary tract infections
Stress incontinence
Overactive bladder / urinary urgency and incontinence
Voiding difficulty – difficulty in passing urine
Bladder pain
Urethral pain
Vaginal or uterine prolapse
Perineal injury
Urinary retention
Vaginal agenesis
Vaginal septum
Vaginal reconstruction
Services are also available for treatment for vesicovaginal and rectovaginal in conjunction with other specialties.
Advice, physiotherapy and pelvic floor as well as bladder training are taught to patients who have urinary continence and prolapse problems.